Welcome to CCM!
Next meeting time and location : Tuesday, January 15, 7pm-8pm at Kinsey Hall 1220B.
Hey there CCMers!

Thank you for taking the time to support your fellow CCMer's at our volunteer appreciation night!
​ This week we will be having a guest speaker for our upcoming general meeting.

Abraham Gallegos is currently doing a health service research fellowship here at UCLA. He graduated from David Geffen School of Medicine and completed a pediatric residency here. Additionally, he also worked for Children's Hospital Los Angeles (CHLA) before he decided to return to UCLA for his current fellowship

We hope to see you all there! Have a cheerful week 2!
Follow CCM on our socials! Instagram/SnapChat/Facebook: @ccmbruins!
Membership Links

If you share our commitment to the underserved, we strongly encourage you to become a CCM member.

If you filled out a membership application and provided the last 5 digits of your UID
---
---
Copyright © 2018 Chicanos/Latinos for Community Medicine at UCLA | Maintained by Outreach
Powered by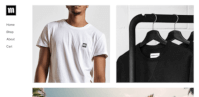 Create your own unique website with customizable templates.