DoTOrg Administrative Director
Name: Gladys Bello
​Major:
Year: 5th
Hometown: Los Angeles, CAInteresting Fact About You: I am fluent in four languages.Career Goals:

I aspire to become a physician and serve disadvantaged as well as impoverished communities.

Office Hours: Thursdays, 3:30-4:30pm @ Bombshelter
---
DoTOrg Financial Director
Name: Joycelin Trujeque
Major: Spanish
Year: 2nd (Transfer)
Hometown: Victorville, CAInteresting Fact About You:

My body is part organic and part titanium.

Career Goals: I strive to become a Physician Assistant with a Master's in Public Health Office Hours: Wednesday, 1-2pm @Powell Library Reading Room
---
DoTOrg Research Director
Name: Richard MartinezMajor:​
Year: 4th
Hometown: Blythe, CAInteresting Fact About You:

I've built a car and two computers.

Career Goals: I hope to become an Orthopedic Surgeon or Pediatrician one day.
Office Hours: Thursday, 2-3pm @ Bombshelter
---
DoTOrg Volunteer Director
Name: Elizabeth Murguia
​Major: Spanish, Community, and Culture
Year: 3rd
Hometown: Yuba City, CA
Interesting Fact About You​: I am trilingual (Spanish,English, & French)! I love learning new languages and hopefully continue to learn more like Arabic, Italian, & Portuguese
Career Goals: As of now I am pre-med and I am pursuing a career in surgery. I am specifically interested in trauma surgery or emergency medicine because I like being on my feet and the fast pace of it. In the future I hope to continue to work with underserved communities and provide adequate and best medical care that I can offer.
​Office Hours: Mondays, 2-3pm @ Bombshelter
---
DoTOrg Outreach Director
Name: Margaret Ramirez
​
Major: Anthropology B.S., Cognitive Science and Chicanx Studies minor
Year: 4th
Hometown: Los Angeles, CA
Interesting Fact About You
: I love to travel and visit New York City annually.
Career Goals
: Still in progress. Yet, I hope that i can donate my time and
services
helping those in need.
Office Hours
: TBD
---
Copyright © 2018 Chicanos/Latinos for Community Medicine at UCLA | Maintained by Outreach
Powered by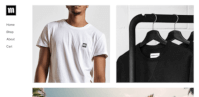 Create your own unique website with customizable templates.